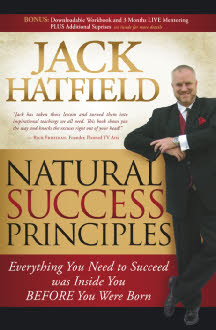 Natural Success Principles
The Prelude book, Blessed with Tragedy, details the story of my premature daughter's birth in a day-by-day diary format. The current book, Natural Success Principles, is an extension of the lessons and knowledge that I witnessed sitting by my daughter's bedside every day. She successfully navigated some of the most amazing tests a human being can encounter, all while being so small. But her size, and all preemies' size, can leave a person with the foolhardy assumption to think they are not strong. This enabled me to see the amazing force of the human spirit.

Her wisdom was blinding. I could not concentrate on anything else but the glory of what I was witnessing. Her incredible journey impressed upon me the most extraordinary lessons. I now know that you have everything you need to succeed inside you
before
we were born. I poured over my notes, my blogs, my intrinsic values that were focused for the first time and I began to recant these principles I saw. They forged the Natural Success Principles. Thus began the journey for everything about these principles. How do we succeed? Why do we succeed? Why does it seem some people never succeed, or is their definition so low that they really have succeeded?

My life and business experiences coerced me into applying these newly found Natural Success Principles into everyday life. It seemed that we took these principles and hid them. We covered them up with social norms, idiosyncrasies, and learned behavior. Why? They are the true spirit of the human being. These principles guide you from day one.

Once anyone sees my drive to teach these lessons, they will understand my true destiny is now. I must show the world that our possibilities are staggering. Our abilities are unbelievable. Our true spirit is so amazing; it is mind-boggling how we managed to cover these. It took a baby to show the way. While I don't wish that set of circumstances upon anyone, if you have ever thought you could call something a miracle, this would be it. It is with a tremendous pride that I was called upon to use it to guide others.